Back to main Blog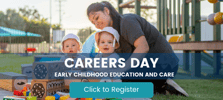 Jamie
Jamie is a qualified Childcare Educator who achieved her Diploma in Early Childhood Education and Care through Venture Education.
We love hearing from our Students about their experience studying with Venture Education and how they are enjoying their new career. Read on to learn about Jamie's experience.
I started studying my
Diploma
with Venture Education at the start of 2020. I was somewhat nervous - I was changing careers after a decade in my previous occupation, and had studied and worked within a university setting previously so wasn't sure what to expect at all.
I commenced with
Venture Education
, whilst I was volunteering and working casually at Mother Duck Eatons Hill, where my children had attended for years. Venture Education supported me with the transition to this form of study and allowing me to go at my own pace. I loved working with the wonderful educators who had nurtured my children for so long and it was great to be hitting the books again!
Then COVID hit....and I took several months off whilst we moved house to the other side of town and whilst I looked after my two young daughters.
In August, I was given the opportunity to commence work at Winston Glades Early Education Centre and started my study again, this time with Stephanie as my trainer. Venture Education made the transition of trainers and centres so smooth and easy.
I have been provided with invaluable learning opportunities and have had some great educators teaching and mentoring me.
Venture Education supported me in my quest to work hard and achieve my Diploma at my own pace. Although perhaps not the 'normal' or 'recommended' speed, she acknowledged my previous study history and desire to accelerate my course due to personal reasons. She was always very responsive and helpful, with thorough feedback and advice given.
I still can't believe in the year of COVID I have managed to get my
Diploma
done, but I'm so thankful to Venture and my two centres for offering me the platform and opportunity to do this. I have found passion in a new career and I feel extremely fulfilled personally and professionally. Thank you to the Venture Education team.
Are you considering a career in Early Childhood Education and Care? View our
courses
or
contact us online
for more information. Venture Education offers rolling intake dates so you have the option to start study when it suits you - no need to wait for new semester intakes.